Reviews
---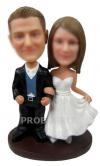 Country wedding Cake Topper
LOVE LOVE LOVE our toppers! Sellers were very easy to work with and very, very timely in responses. We were afraid to place the order because we were cutting it very close to the processing/shipping time and our wedding date, but we took the risk. Good thing because we received our toppers in just a few weeks in perfect condition!...
Date Added: 08/10/2016 by Thomas N.
---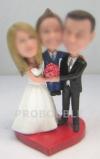 Family Bobblehead Cake Toppers with Child
We ordered 2 accessories to go with our topper --- our two babies Bill and Julie :) They came out so perfect and matched the pictures perfectly....
Date Added: 08/08/2016 by Crystal N.
---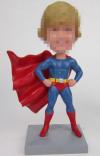 Custom superhero bobbleheads
I just loveddddddddddddd it!!! Probobble were so co-operative and so patient with me when it came to finalizing the facial features. I am soo happy with what I received. It almost looks too similar to the person's face I got it for and he loved it too. Surely going to have another one made in the near future. I highly recommend this!!!...
Date Added: 08/03/2016 by Janet W.
---

Fully Custom Fishing Bobbleheads
This is a great addition to my husband's 40th birthday! Very professional, messaged me pictures of when the face and body were done... Very close attention to detail! Would definitely refer to a friend.....
Date Added: 08/01/2016 by Angela D.
---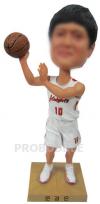 Basketball Custom Bobbleheads
Items were a huge hit and the seller was super responsive. I loved getting pictures throughout the process and making small tweaks. Everybody loved these! They were a bargain, considering the time and skill that it takes to make them!...
Date Added: 07/27/2016 by Theresa T.
---

Custom cake toppers wedding
Very responsive, delivered when promised and quality was great! We loved our topper and so did our guests!!...
Date Added: 07/25/2016 by Tina T.
---