Reviews
---

Custom Bobbleheads Financial Consultant
We chose ProBobble for a gift idea for our boss for Christmas this year. The ProBobble team was amazing from start to finish. They were professional, communicated throughout, and delivered early! They exceeded expectations all around. David from the support team reached out to confirm photos were received and that we would soon see the first draft of the doll. He worked with me throughout as this was a team gift and made sure the doll met expectations. I was so pleased with how quickly they got back and how detailed the team was throughout the process. The bobble figure was even delivered two days earlier than expected and made it before Christmas. We will definitely work with ProBobble again and will recommend them as gift ideas to friends and family. The final product was awesome! Thank you David and to the ProBobble team for making it happen and delivering on expectations!
Pietrina...
Date Added: 12/22/2020 by Pietrina Mannino
---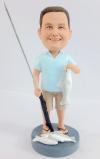 Custom Bobbleheads Fishing man
The item arrived in perfect condition !! I am VERY pleased with the workmanship and likeness to the picture. You did a really good job and I may order again in the future.
Thanks SO much,
Melinda...
Date Added: 10/14/2020 by Melinda Vacca
---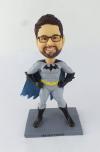 Custom batman bobbleheads
Ordered a personalized baseball player for our grandson. His likeness is lifelike and truly resembles his facial features. The package arrived on the date expected and was "safely" packaged to protect the Bobble Head dolls. Always received quick responses and was provided several opportunities to review the product along the way....
Date Added: 09/09/2020 by David Ore
---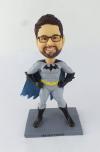 Custom batman bobbleheads
I ordered a custom Batman bobblehead for my husband's Christmas gift from David this past holiday season. He provided me a few proofs and was willing to work with me to make it look as realistic as possible. I appreciated the time and effort he took to make the changes and the results were fantastic! My husband loved it and we couldn't be happier! Thank you so much David for doing such a spectacular job!...
Date Added: 08/19/2020 by Natasha Jaffer
---

Custom bobbleheads Female Realtor gift
I have ordered bobbleheads from other companies before, but in the future I will use probobble.com. Their turnaround time was exceptional and the quality of my doll is excellent. They were very good about making the adjustments I asked for, and did so in a timely manner. The recipient is thrilled with her gift and I am very happy with my purchase....
Date Added: 05/06/2020 by Cindy Daly
---

Custom golf player bobbleheads gift for boss
Working with this creative group was a delightfully successful process. They were extremely patient and persistent with the numerous revisions I wanted during the doll's design. I highly recommend Probobble to anyone wanting a custom-made doll....
Date Added: 04/20/2020 by Hope Hartman
---