Reviews
---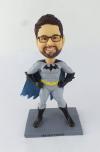 Custom batman bobbleheads
I ordered a custom Batman bobblehead for my husband's Christmas gift from David this past holiday season. He provided me a few proofs and was willing to work with me to make it look as realistic as possible. I appreciated the time and effort he took to make the changes and the results were fantastic! My husband loved it and we couldn't be happier! Thank you so much David for doing such a spectacular job!...
Date Added: 08/19/2020 by Natasha Jaffer
---

Female Realtor Bobbleheads gift
I have ordered bobbleheads from other companies before, but in the future I will use probobble.com. Their turnaround time was exceptional and the quality of my doll is excellent. They were very good about making the adjustments I asked for, and did so in a timely manner. The recipient is thrilled with her gift and I am very happy with my purchase....
Date Added: 05/06/2020 by Cindy Daly
---

Custom golf player bobbleheads gift for boss
Working with this creative group was a delightfully successful process. They were extremely patient and persistent with the numerous revisions I wanted during the doll's design. I highly recommend Probobble to anyone wanting a custom-made doll....
Date Added: 04/20/2020 by Hope Hartman
---
Head to toe fully personalizedized bobbleheads for 1 person
Good evening to you all involved in making the product bobble head happen. It arrived perfect. Thank you so much for a beautiful piece of work a piece of art. The unveiling will happen this weekend. I look forward to Recording the reveal everyone is looking forward to seeing it. I plan to send you the clip and raves for your website!
From ours to yours,
Thank you, peace and stay well.
Erika...
Date Added: 04/10/2020 by Eric Lumbra
---

Custom bobblehead Golfing with a golf bag on the grond
David, thanks so much for the bobblehead. It arrived Wednesday afternoon, just before I was leaving for the birthday party. Was a big hit. Will probably be buying a few more of these from you. Thanks again for your great and expedient work. ...
Date Added: 11/11/2019 by Neil Johnson
---

Custom Casual male bobblehead doll
Got it!!! It is so excellent....I don't know how I am going to be able to wait to give the gift. The recipient may end up getting it several weeks before his b-day! Thank you, again and again!...
Date Added: 11/11/2019 by Virginia Galecki
---