Reviews
---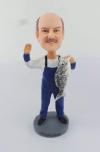 Big Catch Fisherman Bobbleheads - Fishing
What a great experience from the beginning to the finished quality product! The recipient was truly surprised and loved this perfect and unique gift. Your talented sculptors and artists did a terrific job creating and capturing his characteristics and personality - an amazing likeness. Thanks to Cindy's exceptional communication, sending proofs and pictures of the design and painting, enabling the buyer to approve or modify the details during the process. The bobblehead certainly exceeded our expectations when it arrived, both safely and timely. We would highly recommend this company - great customer service. Thank you!...
Date Added: 01/18/2018 by Alrene A.
---

Piano Player custom pianist bobble heads doll
Hooray! Just checked the bench we have in front of our home and there it was!
Looks GREAT Cindy.
Plus I plan to order a couple's bobblehead for our anniversary in a few months.
You gave wonderful service.
Have a happy day!...
Date Added: 01/11/2018 by Gale H.
---

Single Custom bobbleheads gifts for boss & friends
I ordered 6 bobble heads and they are awesome! Incredible process of getting them made from beginning to end. I was able to make as many changes as I wanted and the feedback was prompt and appreciated. They are truly craftsmen. The likenesses are amazing. I Highly recommend this seller....
Date Added: 11/08/2017 by Courtney G.
---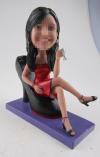 Custom sexy lady bobbleheads Sitting on heels
I am more than satisfied. The bobblehead look's great. It is a gift for my girlfriend and she actually cried when she saw it, was speechless. The item arrived even before than it was planned. I am definitely going to use your service in the future. :)...
Date Added: 10/27/2017 by Josip C.
---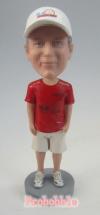 Custom bobblehead gift for Coach
Bought a bobble head for my husband's 40th birthday! My rep guided me through the whole process and arrived days before the party. It was a hit with all of the guests and my husband loved it!! Great job!...
Date Added: 10/10/2017 by Rachel W.
---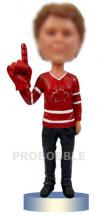 Fans Custom Bobbleheads Doll
Thank you so much. It is always a pleasure visiting Probobble! I am always delighted when browsing through all of the versatile bobbleheads you have. Thanks for giving your customers lots of chances to enjoy gift-giving. I think one of the main reasons I keep coming back is because I am always 100% sure that I can find the perfect gift in your store. Thank you again....
Date Added: 09/22/2017 by Patty H.
---