Reviews
---

Custom golf player bobbleheads gift for boss
Working with this creative group was a delightfully successful process. They were extremely patient and persistent with the numerous revisions I wanted during the doll's design. I highly recommend Probobble to anyone wanting a custom-made doll....
Date Added: 04/20/2020 by Hope Hartman
---
Head to toe fully personalizedized bobbleheads for 1 person
Good evening to you all involved in making the product bobble head happen. It arrived perfect. Thank you so much for a beautiful piece of work a piece of art. The unveiling will happen this weekend. I look forward to Recording the reveal everyone is looking forward to seeing it. I plan to send you the clip and raves for your website!
From ours to yours,
Thank you, peace and stay well.
Erika...
Date Added: 04/10/2020 by Eric Lumbra
---

Custom bobblehead Golfing with a golf bag on the grond
David, thanks so much for the bobblehead. It arrived Wednesday afternoon, just before I was leaving for the birthday party. Was a big hit. Will probably be buying a few more of these from you. Thanks again for your great and expedient work. ...
Date Added: 11/11/2019 by Neil Johnson
---

Custom Casual male bobblehead doll
Got it!!! It is so excellent....I don't know how I am going to be able to wait to give the gift. The recipient may end up getting it several weeks before his b-day! Thank you, again and again!...
Date Added: 11/11/2019 by Virginia Galecki
---
Custom bobbleheads volleyball male
Hi David, I recieved my bobbleheads today. You have done 4 for me. And they are ALL Amazing. You've captured Everything even the tattoos on the beach one is incredible. They are all Christmas gifts, & i know its gonna be a huge hit. I have & will recommended your company to my clients, family & friends
Thank You
Christina...
Date Added: 11/11/2019 by Christina Anfinson
---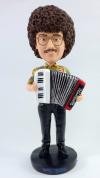 Custom bobbleheads accordion player
The bobblehead for my mother's 90th birthday cake was perfect and a highlight of the party. Several people asked for info re: where it was purchased.
Thank you!...
Date Added: 08/21/2019 by Susan Killiam
---