Reviews
---

Custom Bobbleheads Gift for child
AMAZING - 5 stars!!! The resemblance to my cousin is outstanding. I'm sooooooo happy I decided to go with a bobblehead as his birthday gift this year. The account manager was great! I was asked to comment on all proofs and make changes on any facial characteristics until I was completely satisfied. The entire 3-week process went very smoothly. The addition of the Color AddOn was, without a doubt, the best decision ever! I now know exactly what I'll be buying for my parents for Xmas and where I'm getting it. THANK YOU!!!......
Date Added: 04/06/2017 by Carlos S.
---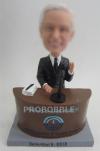 Professor Speaking at Table Bobblehead
The bobblehead that I purchased is incredible. I gave this bobblehead as a gift and the recipient loved it. Everyone in our family had a similar reaction when he proudly showed it to them. They were all surprised because it is such a unique and cool gift idea. The entire design process was easy and the communication from this company was amazing. Thank you so much!...
Date Added: 03/23/2017 by Megan W.
---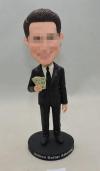 Custom bobblehead gift for Boss with money
This gift could not have been more perfect for my supervisor! Not only did it look like him and included a personalized saying the process was amazing! I was asked to comment on all proofs, could make changes on any features and was always kept updated. I highly reccomend this product not only because of the amazing personalized bobblehead but for the wonderful, efficient and consistent customer service!...
Date Added: 03/14/2017 by Shelly W.
---
Baseball Bobbleheads
Wow. FIVE STARS! I would rate this even higher if I could. I cannot tell you how cool a gift this is!!! I sent photos of my husband and they created a bobblehead that looks EXACTLY like him. I gave it to him as a gift for his 40th birthday, and he was definitely entertained. There aren't many gifts out there as unique as this!!!...
Date Added: 03/08/2017 by Rachel D.
---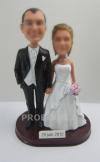 Personalized Wedding Cake Topper Bobbleheads
We had a very positive experience with Probobble. The toppers are great and they checked in with us every step of the way to approve each aspect of the design, and they even made changes when requested. I had a lot of peace of mind using this company (which is a big deal when planning a wedding and the last thing you want to stress over is your cake topper). Great customer service experience with a great product at the end!...
Date Added: 02/22/2017 by Samantha P.
---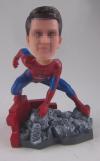 Custom spiderman bobbleheads
Fantastic bobble head, looked just like him! It was the hit of the birthday party! Everyone was totally blown away! Seller was also very communicative; really appreciated the updates and photos as they were creating it. Thank you so much!...
Date Added: 01/08/2017 by Gabriele L.
---