Reviews
---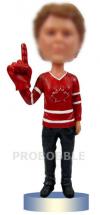 Fans Custom Bobbleheads Doll
Thank you so much. It is always a pleasure visiting Probobble! I am always delighted when browsing through all of the versatile bobbleheads you have. Thanks for giving your customers lots of chances to enjoy gift-giving. I think one of the main reasons I keep coming back is because I am always 100% sure that I can find the perfect gift in your store. Thank you again....
Date Added: 09/22/2017 by Patty H.
---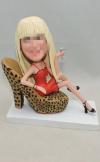 Custom sexy bobbleheads Sitting on high heels
You guys did an amazing job. I just can't believe it. I am so pleased. The communication was consistent and the level of detail was just what I wanted. I know my friends will be so thrilled. A million thank yous!...
Date Added: 09/08/2017 by Leslie D.
---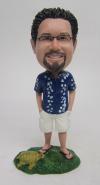 Hawaii style bobble head with turtle
Cindy
Just wanted to let you know we are so pleased with the final product-it is amazing!
Thanks to the team at your organization-great job!...
Date Added: 08/24/2017 by Molly D.
---

Custom Woman kayaking Bobbleheads
Cindy,
Thank you and your team so much for your help. The bobblehead was received yesterday and she loves it!!! I appreciate all your hard work and dedication to making this gift perfect.
Mark...
Date Added: 08/10/2017 by Mark D.
---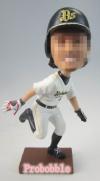 Custom baseball bobbleheads
What a great experience! The craftsmanship is superb. The communication was so easy throughout the entire process. My revisions were nailed every single time. As the process moved along, the likeness was more obvious each time. This was definitely a collaborative effort between us and the designers. This company makes you feel part of the design process all along. Soooo glad I picked you guys over the other companies out there! Best purchase ever - without a doubt. I strongly recommend this company. Great job - you are simply A-M-A-Z-I-N-G !!! :)...
Date Added: 07/28/2017 by Carlos W.
---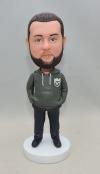 Customized bobblehead gift for friend
I got a customized bobble head for my husband! It came way earlier than I thought it would and it turned out amazing. Throughout the proofing process, communication was amazing! Not to mention, the artists pay so much attention to detail... I never even noticed this one crease the artist added to the face that I didn't even realize was on my own husband's face. Overall, this is a great business. Talented artists and great communication and customer service!...
Date Added: 07/04/2017 by Mary W.
---