Reviews
---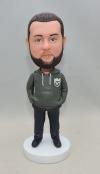 Customized bobblehead gift for friend
I got a customized bobble head for my husband! It came way earlier than I thought it would and it turned out amazing. Throughout the proofing process, communication was amazing! Not to mention, the artists pay so much attention to detail... I never even noticed this one crease the artist added to the face that I didn't even realize was on my own husband's face. Overall, this is a great business. Talented artists and great communication and customer service!...
Date Added: 07/04/2017 by Mary W.
---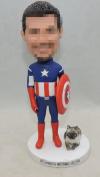 Captain America custom bobbleheads
Absolutely amazing!! They truly work with you every step of the way, sending you pictures throughout the entire process allowing you to make even the most minor tweaks until you're completely happy with it! I got my boyfriend one as a gift and he loved it! He couldn't believe how much it actually looked like him! I would highly recommend!!...
Date Added: 06/13/2017 by Lisa J.
---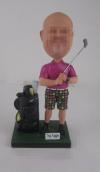 Custom golf player bobbleheads
This is the most AMAZING gift to give EVER! It's personalized and looks just like our photos. This seller is super easy and super professional to work with. She gave us updates on s regular basis and followed through up until the very end. THANK YOU SO MUCH. WE CANT WAIT TO GIVE IT TO HIM!! Thank you - we"ll be back soon!!...
Date Added: 05/16/2017 by Lisa J.
---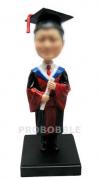 Graduation Bobbleheads Holding Diploma
This was the most fun I've ever had buying a present for someone! The bobble head was great, handmade, made and shipped in a timely manner. The process of sending pictures and receiving photos of the progress was perfect. I had the input to accentuate features. And it was so much fun to watch my friend come to bobble-life! He loved the gift, btw ;-)...
Date Added: 05/05/2017 by Miranda D.
---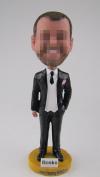 Custom groomsmen bobbleheads
By far, this is the best experience I have ever had. I cannot thank these guys enough. The doll they created for me was well beyond my expectations and very detailed. They really went the extra mile, I will be buying from them again soon :D...
Date Added: 04/21/2017 by Stefanie W.
---

Custom Bobbleheads Gift for child
AMAZING - 5 stars!!! The resemblance to my cousin is outstanding. I'm sooooooo happy I decided to go with a bobblehead as his birthday gift this year. The account manager was great! I was asked to comment on all proofs and make changes on any facial characteristics until I was completely satisfied. The entire 3-week process went very smoothly. The addition of the Color AddOn was, without a doubt, the best decision ever! I now know exactly what I'll be buying for my parents for Xmas and where I'm getting it. THANK YOU!!!......
Date Added: 04/06/2017 by Carlos S.
---