Reviews
---

Make bobblehead gift for your groomsman
I purchased eight fully customized bobbleheads for my groomsmen. I absolutely love the result! They look exactly like our groomsmen and I thought the price was also very fair, and they accept credit card, which is a huge plus for me.They were very professional throughout the whole process. They walked me through each step, allowing me to fix as many times as I thought necessary to get the exact look I was hoping to achieve. If you are looking to get bobblehead made for your wedding, don't give your business to anyone else. One of a kind gift with one of a kind service. Very satisfied customer!...
Date Added: 03/16/2018 by Rachel W.
---
Custom style bobbleheads
I ordered a custom bobblehead as a birthday gift for my husband and it was a big hit! It came out even better than I expected it to. Cindy made the whole process easy to understand and kept me informed every step of the way. She understood every request that I made regarding hair coloring and facial features, and the bobblehead came out perfectly! I also received the item with plenty of time to spare. I highly recommend this company - AAAA+++++++!!!...
Date Added: 02/26/2018 by Daisy B.
---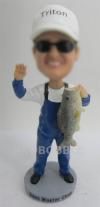 Big Catch Fisherman Bobbleheads - Fishing
What a great experience from the beginning to the finished quality product! The recipient was truly surprised and loved this perfect and unique gift. Your talented sculptors and artists did a terrific job creating and capturing his characteristics and personality - an amazing likeness. Thanks to Cindy's exceptional communication, sending proofs and pictures of the design and painting, enabling the buyer to approve or modify the details during the process. The bobblehead certainly exceeded our expectations when it arrived, both safely and timely. We would highly recommend this company - great customer service. Thank you!...
Date Added: 01/18/2018 by Alrene A.
---

Piano Player custom pianist bobble heads doll
Hooray! Just checked the bench we have in front of our home and there it was!
Looks GREAT Cindy.
Plus I plan to order a couple's bobblehead for our anniversary in a few months.
You gave wonderful service.
Have a happy day!...
Date Added: 01/11/2018 by Gale H.
---

Single Custom bobbleheads gifts for boss & friends
I ordered 6 bobble heads and they are awesome! Incredible process of getting them made from beginning to end. I was able to make as many changes as I wanted and the feedback was prompt and appreciated. They are truly craftsmen. The likenesses are amazing. I Highly recommend this seller....
Date Added: 11/08/2017 by Courtney G.
---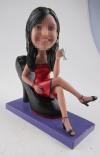 Custom sexy lady bobbleheads Sitting on heels
I am more than satisfied. The bobblehead look's great. It is a gift for my girlfriend and she actually cried when she saw it, was speechless. The item arrived even before than it was planned. I am definitely going to use your service in the future. :)...
Date Added: 10/27/2017 by Josip C.
---